Zhejiang Xinwo is a leading CNC manufacturing company in China, providing efficient and quick CNC milling and turning services for precision machined components manufacturing and prototyping. We have sophisticated high-performance multi-axis CNC milling-turning center, accomplished workers and operators to provide quality custom CNC turn-mill parts with improved productivity and outstanding flexibility. Our CNC design and engineering team will review your drawings carefully and rigorously, then give you proper advice or start the machining cycle. You can get detailed CNC mill-turning quote fast as long as you sent your metal or plastic parts design drawings. Highly automated CNC programming will speed up and simplify the machining of CNC milling and turning components and achieve tight tolerance, smooth surface and complex geometries to meet your requirements.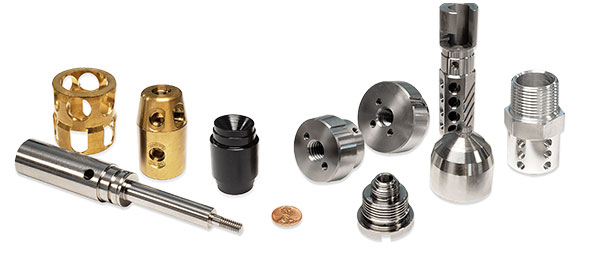 Advantages of Our CNC Milling and Turning Services

– High efficiency. We can produce 1-1000 CNC milling and turning parts as fast as one day with our equipment.
– Excellent Precision. Based on customer demands, Jun Ying will provide precise and accurate measurement and production for each product.
– Exact Specifications. Automatic CNC milling-turning center will perform the designed motions to get required parts with exact sizes, shapes and other parameters.
– Competitive Prices. With advanced CNC machining services and increased productivity, we can bring you the most cost-effective and affordable custom solutions.
– Fast Delivery. Average 7 days turnaround time and 99.85 on-time delivery rate.
Metals:Aluminum, alloy, titanium, stainless steel, steel, copper, bronze, brass, etc.

Plastics:POM, ABS, PEEK, PMMA, HDPE, Nylon, PLA, PC, PP, PTFE, etc.
Other Materials: Graphite, VeroClear
CNC Turning and Milling ApplicationsZhejiang Xinwo CNC turning and milling service can deliver turn-mill products almost for all industries, including aerospace, aviation, marine, military, defence, medical, automotive, electronics, food processing, mechanical, agriculture, semiconductor, high-tech, machine tools, etc.
What is CNC Milling and Turning Service (CNC Turn-Milling Compound)
CNC turning or CNC milling allows to manufacture CNC parts in single handling, while CNC milling-turning is a compound machining technology, to execute designed multiple kinds of tasks with the computer numerical control when the cutting tool and workpiece are both rotating. With CNC milling and turning services, complex curved or special-shaped parts can be produced through the processing of multiple surfaces on the CNC milling-turning center. CNC turn-milling machine can reach any surface of the components. Most of the CNC turn-milling compound process can be completed on the CNC turning center. There are two different CNC turning-milling types:
– Contour machining when the workpiece is parallel to the cutter axis
– Surface machining when the workpiece is vertical to the cutter axis.
Features of CNC Milling and Turning

– Shorten manufacturing process chain and higher efficiency
– Reduced clamping times and improved machining accuracy
– Free-moving worktable and high precision built-in spindle
– Mainly for mass production of small parts or complex components in high speed and diversified processing.
– Designed parts can be produced in one-time processing
– Suitable for cutting copper, iron, aluminum, stainless steel, brass, plastics and more materials.
– More precise products, faster speed and decreased cost than single machining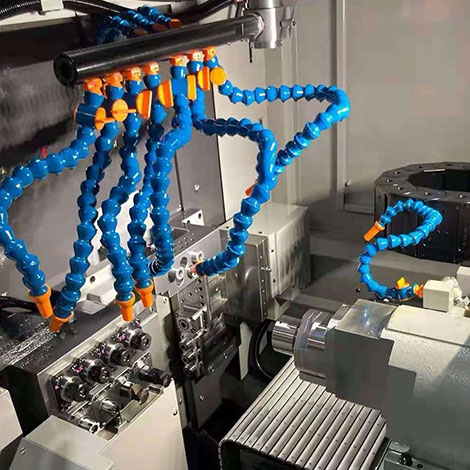 Zhejiang Xinwo CNC Milling and Turning Surface Finishes
There is a wide range of metal finishing services available here for your CNC milling and turning parts to improve the parts appearance, surface smoothness, corrosion resistance and other performance.
Painting: refers to an altering surface finishing process, spraying paint, pigment, or color to a solid surface as a colored protective layer, and can be done on metal or non-metal CNC machined components of any shapes, usually applied on aluminum, stainless steel and steel alloy parts. The purpose is to improve aesthetic appearance and prevent corrosion or oxidation.
Passivation: a common chemical surface treatment method for steel and stainless steel, to remove ferrous contaminants or use a light coat of protective material to create a shell for enhancing the corrosion resistance or reducing the chemical reactivity.
Electroplating/Plating: a process of using an electric current to reduce dissolved metal cations so that they form a thin coherent metal coating on an electrode, to change the properties of the metal surface or build up thickness for undersized parts.
Powder coating/Powder coat: a functional and decorative finish, which is applied as a free-flowing, dry powder, employs electrostatically and then cured under heat, to create a hard finish that is tougher than conventional paint. The main applications including household appliances, aluminum extrusions, drum hardware, automobile, motorcycle, and bicycle parts.
Anodizing/Anodized:an electrolytic passivation process of forming a thin layer of aluminum oxide on the exterior of aluminum CNC machined parts to increase the thickness of the natural oxide layer and protect the metal, as the layer has higher corrosion and abrasion resistance than aluminum.
Polishing: also known as buffing, a process of rubbing the surface of parts or utilizing a chemical action to produce a smooth and shiny surface, make the surface get significant specular reflection or reduce diffuse reflection in some materials.
Black oxide: also known as blackening, gun bluing or hot blackening, a chemical process of forming a black conversion coating on stainless steel, copper and copper based alloys, zinc, powdered metals, silver solder, and ferrous materials, to improve corrosion resistance and minimize light reflection.
Conversion coating :also known as chromate conversion, the coating are used for metals converted to a protective layer through the chemical or electrochemical processes, primarily used as a corrosion inhibitor, decorative finish, or to retain electrical conductivity.
Bead blasting/Bead blast: the process of removing surface deposits by applying fine glass beads at a high pressure without damaging the surface.
Abrasive blasting/sandblasting: the process or operation of propelling a stream of abrasive material composed of high-velocity sand-sizes particles against the metal surface under high pressure with blast equipment like air pressure system, to remove surface contaminants, clean metals or increase a texture, then change the smoothness or roughness of surface.