The robot arm can be fully customized. It has a 4° range of motion and can lift objects weighing up to 9g.
The programmable robotic arm kit is designed for youth and adults with intermediate to advanced robotics and programming skills. It can be assembled in a few hours without using solder. It can be used at home as well as in educational institutions that deal with STEAM (science, technology, engineering, arts and math) technology.
The Build&Code UNO board, which is compatible with the most used applications in educational robotics: Arduino and various visual block programming software, powers the entire programmable robotic arm. Any robotic arm project built on these platforms can be downloaded and used with the robotic arm.
Access the robotic arm exercises HERE, which are designed to help you learn more about robotics and programming while teaching you how to use the robotic arm.
Because the Build&Code UNO board is open source, there are a plethora of free guides and exercises online to help you get the most out of the electrical components included in this programmable robotic arm kit. If you have any questions, you can also visit the Arduino groups online.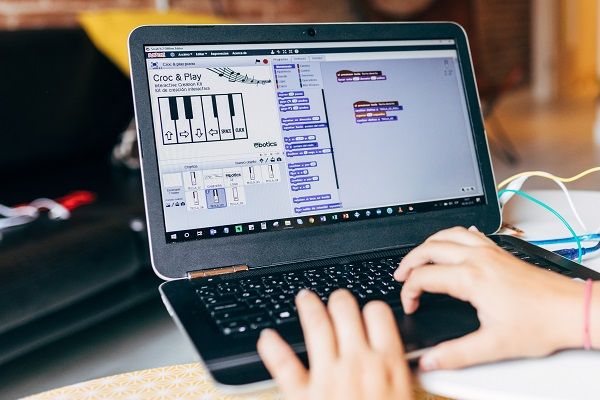 Arm Robot Ebotics : technical specifications
Build&Code UNO R3 board (Microcontroller ATmega328P)
Operating voltage: 5 V
Input voltage (recommended): 7-12 V
Input voltage (limit): 6-20 V
14 digital I/O pins (6 of them provide PWM output)
6 digital I/O pins PWM
6 analog output pins
DC current per I/O pin: 20 mA
DC current per 3.3 V pin: 50 mA
Clock frequency: 16 MHz
Dimensions: 68 x 53 mm
Weight : 25 g
Programmable with Arduino IDE and various visual block programming software
Compatible with Mac OS, Windows and Linux
Arm Robot Ebotics : Contents of the box
1 Build&Code UNO R3
2 joystick modules
1 Build&Code shielded sensor
4 micro servomotors 9 g
3 x 30 cm male – female connection wires
8 wires of connection female – female of 30 cm
1 Robot arm structure (pre-cut methacrylate plates)
1 gamepad base
1 USB Type A – USB Type B cable
4 screws M3 x 25
18 M3 x 10 screws
18 M3 x 8 screws
7 M3 x 6 screws
5 screws M2 x 5
26 M3 bolts
1 9V battery holder