As an experienced and professional machine shop specialized in CNC manufacturing for many years, Zhejiang Xinwo is capable of precision 5 axis CNC machining services and 5 axis milling. Whether you are in need of high-quality and precise metal or plastic components, we can provide 5 axis machining parts to worldwide clients for a variety of industries including automotive, medical, military, aerospace, mechanical, machine tool, high-tech, and more, with excellent machining and programming skills, as well as 5 axis CNC machining center. Our engineers and machinists can perform true 5 axis machining services work and produce five axis machining parts with ease. No matter how complex the CNC machining parts, each step will be executed with a rigorous attitude, to deliver exceptional 5 axis machining components that demonstrate the highest quality standards. Even though any problems during the process, we'll keep running the job and make adjustments until all the issues are addressed. If you require a well-established and cost-effective CNC machining company to take over your project, Zhejiang Xinwo can achieve your expectation.
Why Choose Zhejiang Xinwo 5 Axis CNC Machining Services
Our 5 axis vertical machining center equipped with multiple position tool changers, there is no need for setup on different machinery, allows 5 axis machining of complex parts with high efficiency, saving time and cost.
5 axis CNC service at Zhejiang Xinwo has strong capabilities to deliver precision machining products based on the demands and custom design given by clients, to reach or exceed your expectation.
We can machine precision CNC products with a 3/4/5 axis machining center from a host of materials, including aluminum, steel, copper, bronze, titanium, and more, to fill different specifications.
A complete process and quality control system in place to assess quality at every stage of our preparation, manufacturing, and inspection, to ensure the quality of 5 axis CNC machining components consistently meet the requirements.
A series of secondary processing and finishing services are offered for further processing, including 3/4 axis machining & milling, painting, sandblasting, anodizing, passivation, chrome plating, nickel plating, and more.
Custom 5 axis milling parts with competitive prices, fast turnaround, improved productivity, and on-time delivery.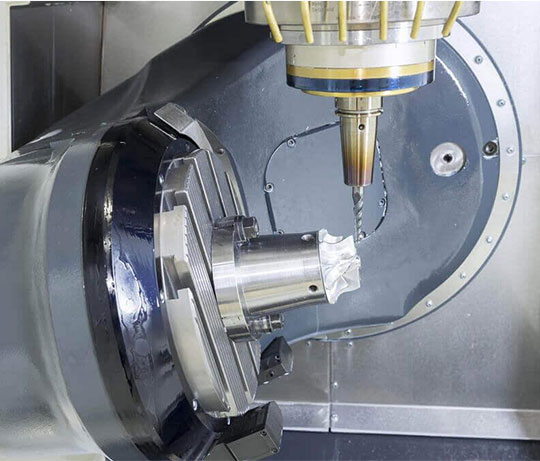 What is 5 Axis Machining?
The 3, 4, or 5 axis machining is defined related to the number of directions in which the cutting tool can move, this also determines the ability of a CNC machine to move a workpiece and a tool. 3-axis machining centers can move a component in X and Y directions and the tool moves up and down along Z-axis, while on the 5 axis machining center, the tool can move across the X, Y and Z linear axes as well as rotates on the A and B axes, which makes the cutter can approach the workpiece from any direction and any angle. 5 axis machining is different from 5-sided machining. Therefore, 5 axis CNC machining services allow infinite possibilities of the machined parts. Hook surface machining, unusual shape machining, hollow machining, punching, oblique cutting, and more special processes can be done with 5 axis CNC service.
Benefits of 5 Axis Machining
The 5 axis machining parts can be finished on a single 5 axis machine, which reduces fixture and setup preparation, saves a lot of time
Complex geometries can be processed with ease, high productivity and efficiency can be guaranteed at the same time
Excellent surface finishes can be achieved, improves the overall quality of 5 axis CNC parts
Expanded capabilities, higher accuracy, boosted throughput, and shortened lead time
Improved cutting conditions, maintain the optimal cutting, and reduce damage to the tool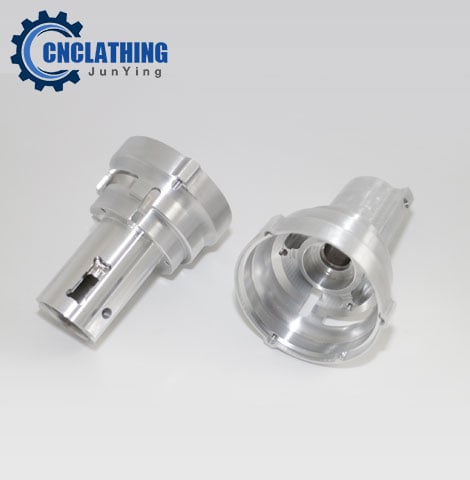 5 Axis Machining vs 3+2 Machining
5-axis machining is different from 3+2-axis machining. 5-axis CNC milling or machining involves continuous adjustments of the cutting tool along all five axes to keep the tooltip optimally perpendicular to the part. While 3+2 machining, also known as 5-sided machining or 5-axis indexed, it's actually a 3-axis program with the cutting tool fixed at an angle depending on the two rotational axes. 3+2 machining needs to stop and start between each tool reorientation, while 5 axis machining does not require that, so its speed is greatly improved. In addition, 5 axis CNC machining suits for more applications due to its stronger capacities. Generally, 3+2 machining works for plane processing and can't complete oblique or special machining, while 5 axis machining center is suitable for various contour surface machining.